Shaker, constant temperature shaker, full temperature multi-amplitude shaker Model: MHY-27190 Application: This instrument is widely used in bacterial culture, fermentation, hybridization and biochemical reactions with high temperature and oscillation frequency, as well as enzymes and cells. Research and application fields such as organizational research. MHY-27190 Shaker Technical Features: The rocking plate is steadily speedened, which ensures the safety of the experimental samples; Convenient design makes the oscillation amplitude adjustment easy; LCD large-screen backlit LCD displays various setting parameters and measured parameters; Operating parameters Encryption lock, avoid human error operation, run parameter memory function, avoid cumbersome operation; AC induction long life motor design, wide speed regulation, constant torque, constant speed, no carbon brush, maintenance free; control acceleration line to ensure slow shaker Start-up, smooth acceleration, and ensure the safety of experimental samples; streamlined luxury machine shape with extremely aesthetic design concept, electrostatic spray box, large screen tempered glass window. Over-temperature sound and light alarm function, motor overheating, temperature out of control, abnormal over-temperature instrument automatically cut off their respective power supply with power-off recovery function, after the external power supply suddenly loses power and calls again, the device can automatically resume operation according to the original setting procedure; MHY-27190 shake Bed technical parameter name model MHY-27190 full temperature multi-amplitude orbital shaker control mode P. I. D (microcomputer environment scanning micro processing chip) display mode LCD (liquid crystal display) convection mode forced convection oscillation mode gyro oscillation drive mode single-dimensional multi-amplitude ambient temperature requirement (°C) 5 to 25 temperature control range (°C) 4~ 60 Temperature resolution accuracy (°C) 0.1 Temperature fluctuation (°C) ≤±0.1 (at 37°C) Temperature uniformity (°C) ≤±1 (at 37°C) gyro frequency range (r/min) 30~400 gyro frequency accuracy (r/min) ±1 rocking plate oscillation amplitude (mm) Φ0~50 stepless adjustable timing range (h) 0~500 rocker size (mm) 400*370 rocker quantity (block) 1 net weight (kg) 100 Gross weight (kg) 132 volume (L) 69 liner size (mm) 490*450*315 dimensions (mm) 730*685*555 package size (mm) 850*805*725 maximum capacity (ml*) 250 *12/500*9/750*7/1000*5 standard configuration (ml* support) 50*5/100*5/250*4/500*3 power (W) 700 power supply AC 220V, 50/60Hz

Ergonomic Reading Table And Chair

Children`s study table and chair set is furniture for children aged 3-18 to learn to write homework. The table has a large storage space. The table board is made of solid wood core material. The table board can be adjusted, and the table legs can be raised and lowered to meet various requirements. Children of height can write homework and draw pictures; the Study Chair is an ergonomic chair that can be adjusted to protect the child's spine. The cushion is latex, which is very comfortable and will not be tired, so that children can study healthy and happy.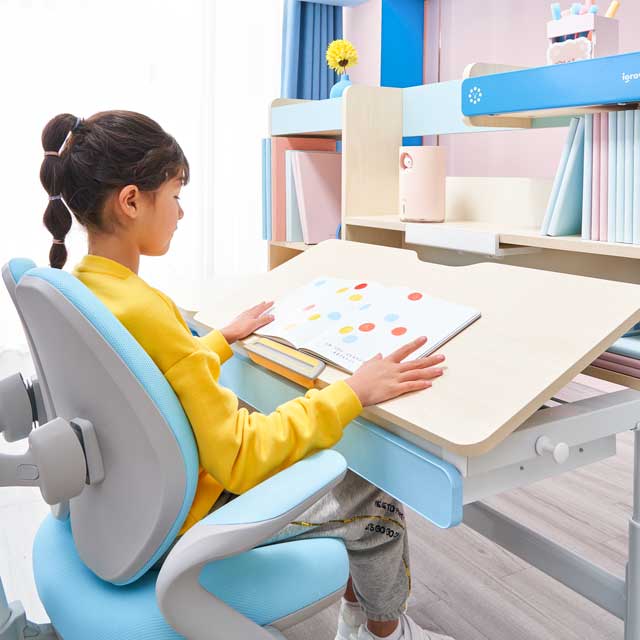 Partex Study Desk For Home,Ergonomic Computer Chairs,Custom Kids Study Chairs,Ergonomic Reading Table Chair

SUZHOU IGROW TECHNOLOGY CO.,LTO , https://www.igrowdesk.com