In the golden autumn of October, the wind and the wind are smooth. The 2011 China International Nano Industry Development Forum and Nano Technology Achievements and Products Exhibition was held on October 27-29, 2011 in Suzhou, Jiangsu Province.

This exhibition is jointly sponsored by the Ministry of Science and Technology, the Chinese Academy of Sciences and the Jiangsu Provincial People's Government, and jointly organized by the Jiangsu Provincial Department of Science and Technology and the Suzhou Municipal People's Government. The forum and exhibition are aimed at enhancing the international competitiveness of China's emerging nano-industry technology, cultivating new highlights in pillar industries, and further exerting the role of high-tech industries in driving related industries.

During the Nano Show, Optimus Technology brought a number of products to the venue, which fully demonstrated the company's full line of products, technologies and overall solutions. The company keeps investing heavily in research and development, which keeps its products and technologies constantly updated, and always leads the industry.

The crowd of people in the company's booth became the focus of attention

In this exhibition, the company's booth is located in the most prominent position of the exhibition. The booth gives a stable impression and unique characteristics, attracting many visitors. The audience showed strong interest in the company's new products and technologies, and expressed their novelty and appreciation for the company's products and technologies that can be applied to the daily lives of ordinary people.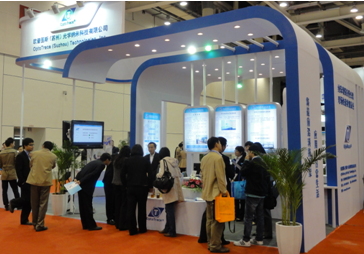 Many visitors stopped at the company booth

Government leaders visit the company booth to understand the situation and guide the work

On the morning of the 27th, Chen Xiaoya, Vice Minister of Science and Technology, and Academician Xu Nanping, Assistant Governor of Jiangsu Province, and his party visited the company booth after attending the opening ceremony. I am very interested in the company's latest technical achievements in rapid on-site detection of drain oil.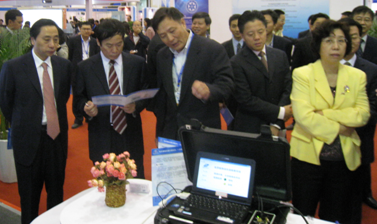 Vice Minister Chen Xiaoya, Academician Xu Nanping, Secretary Ma Minglong of Suzhou Industrial Park, Director Yang Zhiping and other leaders

Listen carefully to the introduction of company leaders

Subsequently, Sun Wei, deputy director of the National Standards Committee, director of the Information Technology and Automation Division of the Second Ministry of Industry, and his party, accompanied by the director of the Municipal Bureau Niu Xuelin, the deputy director of Li Ping, and the director of the park branch Ouyang Qing, also came to the company's booth, and Optus Guangna Technology exhibitors communicated cordially.

The live demonstration of "One-minute Ditch Oil Prototype" became the highlight of the booth

In order to make it easier for the audience to understand the efficiency of the company's nano-enhanced on-site rapid detection system, this exhibition specially planned a live demonstration area, which will be the latest research and development of Optus Kona Technology in the field of trench oil detection. The results will be brought to the exhibition site and shared with all the audience. The audience praised the company for doing good things for the people's lives.

Media Focus, the latest technology of sewage oil detection

The latest on-site rapid detection technology for drain oil developed by Optos Kona Technology has attracted the attention of the industry and the outside world. At the exhibition site, it has become the focus of media attention, interviews and reports. See the report of Guangdong Satellite TV "Nanotechnology Applied to People's Life": http: // VbiQu340lQ /

Nanotechnology and people's life

The company further showed that Raman spectroscopy can also be used to quickly detect adulterated foods (such as soybean oil in olive oil, starch and sugar in milk powder), illegal food additives (such as melamine, Sudan red, and sulfide in MSG Sodium, etc.), agricultural and veterinary drugs and hormone residues (such as methamidophos, malachite green, 6-BA, etc.), harmful and inferior food packaging materials (such as PVC or PVC mixed with ethyl phthalate (that is, plasticizer) PVC) Film and plastic toys, fast food boxes made of polystyrene, inferior melamine porcelain tableware, etc.). Security inspections at airports and major gatherings have begun to be used abroad. The detection of body fluids can also be used for early screening of major human diseases. In addition, nano-enhanced Raman spectroscopy can also be widely used in criminal investigation security, environmental monitoring, biopharmaceuticals, and industrial production processes. Quality control and other fields.

In the 3 days of this exhibition, more than 1,000 users and visitors visited the company's booth to visit products and technologies, and received information, the exhibition was a success. Optos Technology will continue to develop and contribute to the food safety and environmental health of the people.

1. Exerts uniform compression to support lower back and abdominal muscles during activities
2. Supports along the spine to provide stability for those suffering from lower back pain


3. You can wear it either under or outside of clothes

4. Soft, Reusable, Collapsible, Shockproof, Eco-friendly, Stain Resistance,Soft touching feel

Weightlifting Waist Support,Waist Guard,Sport Waist Trainer ,Fat Sport Waist Support,Waist Sweat Wrap,Waist Trimmer

Shijiazhuang AoFeiTe Medical Devices Co., Ltd. , https://www.aofit.com